Smokehouse's guitar frontline hanging out at the beach at Bob Hall Pier 
before the gig at Mikel May's Beachside Bar & Grill - July 22, 2017
Adam Johnson • Sam Massey • Scott Mayo


---
Smokehouse Guitar Army wants to thank Gina Hartberger and the great staff of Barriba Cantina for so many years of Great First Saturdays! SGA always had a great show at Barriba and we so appreciate the hospitality of the crew there. We wish you all the Best of Luck in the future and hope to see you again.


---
F R O M T H E S T A G E 2 0 1 9
A Fine Close to 2019!


It was a great year for the band and we want to thank all our friends and fans. Thank you so much for coming out to our shows. Thank you so much for the great emails and texts. Probably the biggest blessing we got was Sam recuperating from his dangerous illness. It was great seeing all his friends and fellow musicians coming together to see him recover. Now, he is back on stage with Smokehouse, 100%! We were fortunate to have some killer gigs to close the year out with Sam and the band. Go up on line and take a look at the pictures from the shows.

Smokehouse is grateful to our wonderful venues for having us over to perform. We always strive to bring an audience and keep an audience so the venue does well. And that's where our great audiences have been great. Thank you all again for coming by and catching our shows. We are going to be playing at some new venues this year. A big thanks to The Cove and The Gruene Grove for booking Smokehouse for the First Friday and First Saturday of each month in 2020. Now, there will be a couple of months where that schedule will be altered. So be sure to keep up with the calendar. And we'll be looking to see you at our shows in 2020.

First Friday at The Cove
Granvil • Jack • Scott • Mad Dog • Sammy


November show at The Place Downtown
Stray Dawg • Richie • Shelby • Scott

Christmas Show at The Gruene Grove
Jack • Granvil • Mad Dog • Scott • Sammy

Below are direct links to our Photo Gallery for the last shows of the years. The are a few not listed so make sure you head up to the gallery to see the complete list of great shows!
Gruene Grove Jam • October 13, 2019 The Place Downtown • November 2, 2019 The Cove • December 6, 2019

The Gruene Grove • December 21, 2019 See the whole Gallery
A Great Road Trip from Austin to Del Rio to Gruene ...
Magic Sam is back on tour with Smokehouse! - September 2019
Well, this is the moment friends and fans of Smokehouse and Sam Massey have been waiting for ... Sam's return to good health and getting back on stage with his band. For a long time, we did not know what would happen. Sammy had been quite ill at home for a couple of days. Nothing seemed right. When a friend went over to check in on him Sam was unresponsive and 911 was called. He was taken to a local hospital which determined immediately that Sam needed to be rushed up to Austin. The doctors in Austin examined Sam but had no leads on what was killing our friend. They put him into an induced coma and kept him under 24-hour observation. A tracheotomy was performed and for what seemed like years Sam lay there asleep with tubes and machines plugged into him. Then, things changed. The doctors now had an idea what was going on and they formed a plan of attack. They brought him out of the coma and began the treatment regimen. This staff of dedicated doctors, nurses, and technicians helped bring Sammy back to us. He was responding positively to treatment and therefore he was able to have more visits from family and friends which helped him so much on his road to recovery. Posters and cards and gifts filled his room. Sammy was overwhelmed by the outpouring of support from those dear to him. The last leg of the recuperating process was to have Sam stay under observation at a convalescing home versus staying in a medical facility. While there he was able to get in some physical therapy as well as off-campus trips with friends coming by to visit. And now, Sammy is back out in society in his new digs north of Austin in Round Rock and he is doing GREAT! He will be using a cane for a while, but that's okay with Sam. Not too long ago he was re-learning how to walk.
As far as the band goes, we would gradually bring him back. A couple of songs a show, then maybe a full set, and eventually a full show. Well Sam just had to go way ahead of schedule. We figured maybe by December or January would be a realistic goal for Sam being able to perform for an entire show. To our impressed amazement, he was on stage with Smokehouse for two complete shows this past weekend, in Del Rio and in Gruene! And it was fantastic. Friday night we played our premier show at The Bak Yard in Del Rio and Sam did not miss a note. Rick and Brenda Rivera, owners of The Bak Yard, had a great time with us and invited us back to play before the year ends. We met new friends and got a chance to talk to some Air Force personnel from Laughlin AFB and many of our border protectors. SGA let them know how much we appreciate what they do for all of us. And a special thank you to Charlie Cockerell for making the trip and covering the bass work for the evening in Del Rio ... fine job. The next day we headed up to Gruene for our monthly residency at The Gruene Grove and as a special treat we were joined by internationally acclaimed Jack Barber on bass. This was the second time Jack played with us at the Grove and the rhythm section was rolling all night long. It was an incredible show and Sammy was on fire the whole night. Many in the audience came up to say howdy to Sam and let him know how glad they were to see him back. Yep, Magic Sam is back and boy is it great that Smokehouse continues to unleash the boogie as we do!
The Bak Yard • September 20, 2019 Photos
Our premier show in Del Rio at
Rick & Brenda Rivera's The Bak Yard


Smokehouse Guitar Army droppin' the boogie
on the border at our new venue in Del Rio!

Sammy on vocals once again ... it's great having him playing and beltin' out the blues!
Rhythm Section Border Style with
Charlie on bass and Dan on drums

Brenda Rivera • Dan Aubert • Stray Dawg
Scott Mayo • Sam Massey • Rick Rivera
Charlie Cockerell

Smokehouse with our new fans from Del Rio!

The Gruene Grove • September 21, 2019 Photos
Smokehouse O.G. ...
The Fenders - Scott and Sam

Sammy is back on the mic belting out some blues with Jack and Scott backing him up

Stray Dawg testifying!
What a rhythm section!
Jack Barber and Dan Aubert

It's always a dance party with Smokehouse!

Jack Barber • Dan Aubert • Stray Dawg
Scott Mayo • Sam Massey

A Great Weekend Highlighted
With a Session with Magic Sam Massey - August 2019
Top of the month in August means First Friday at The Cove. This is by far one of our favorite shows we do in the month. Following a great performance by The Lavens, we put on a high powered, boogie driven Smokehouse show that had the people dancing! Our lineup was our core band minus Sammy, who is doing great these days. Jason Crisp was with us again to fill in at lead guitar/vocals, joining Scott, Stray Dawg, David Meissner, and Dan Aubert. Some friends from the past came by to see us play and it was a most enjoyable 3 hours. The next day was an evening gig up in Kingsland at The Place Downtown, a happening place where we have played four or five times before. They sunk a good amount of money and sweat into updating the venue, namely a new built up stage with completely upgraded audio and visual reinforcement. This gig has been planned for a few months with a special treat in mind: bringing Sam Massey down from Austin, where he is recuperating. His friends from the Llano / Lake Buchanan / Kingsland area - those that were used to being with him once or twice a week - were going to be at the show so everyone could visit. If, by chance, he could play that would just be extra icing on the cake. Well everything aligned and it was a complete blast! Sam was back with Smokehouse, playing the second set, and we were joined by Shelby Cheyenne, a favorite of ours. The place was rocking and the show was well appreciated. Please be sure and check out the photos ... we have a lot of buddy shots as well as performance shots.
The Cove • August 2, 2019 Photos
First Friday every month following The Lavens -
Smokehouse Guitar Army at The Cove!


Smokehouse Guitar Army and their special brand of Texas Boogie Blues!

A young fan of the Army gets a special pass to come up on stage and hang with the band
Scott jamming rhythm guitar while Jason takes off on a solo with Dan drumming the beat


Stray Dawg ripping a tasty solo with Dave thumping rhythm on bass

Stray Dawg • Jason Crisp • Dan Aubert
David Meissner • Scott Mayo

The Place Downtown • August 3, 2019 Photos
The Place Downtown
in beautiful Kingsland Texas

Smokehouse Guitar Army
National Blues Day ... Come Sing the Blues!

A killer venue with our friends and fans from around the area in the house!
| | | |
| --- | --- | --- |
| | | |
| Scott on vocals and taking a solo | Stray Dawg's turn to let loose with some blues | Jason sings a little Jimmy Reed |
David, Master of the Bass

Dan, Majo

Drummer Extraordinaire Dan

Drums

Incredible sound and light reinforcement
It has been a long time since we've heard
Sammy sing "Killing Floor" ... IT WAS KILLER!


Shelby Cheyenne justs keeps taking it up another notch when she's with Smokehouse

Scotty - Jason - Shelby
Great friends having a great time

The show started as Smokehouse Guitar Army
The show ended as Smokehouse Guitar Nation!


Road Warriors!! Thank you Richard for bringing Sam down from Austin ... Thank you Sammy for making the trip ... YOU ROCKED BROTHER!

David Meissner • Stray Dawg • Dan Aubert
Jason Crisp • Scott Mayo
Shelby Cheyenne • Sam Massey

Some Old Friends and Some New Friends
Sitting in with Smokehouse in Gruene - June 2019
As happens during the course of our shows, this June 22 gig at The Gruene Grove had some logisitics challenges attached. While Sammy is recovering in Austin, Jason Crisp and Jamie Krueger have been filling in on the frontline. Both Jason and Jamie were unable to perform with Smokehouse at this show. Stray Dawg, our other lead guitarist and vocalist, along with his brother Dan, our drummer, had a prior engagement scheduled for that date. Which left Scott as the only active member SGA person to do the performance! Jason was able to connect us with his pal Nate Boff from Austin to sit in at one guitar/vocalist slot. And fortunately we were able to call out from the reserves our great friend, The Texas Saint, Michael Mulligan. We now had the frontline set, the rhythm section was next. We were honored to be joined by world renowned bassist and friend of Smokehouse Jack Barber. One phone call to him and he was in the band. To complete the rhythm section we brought in Eric Vasquez, the enthusiatstic drummer with the Texas Shinerunners to work with Jack and what we got was a solid hard- driving rhythm train to match the frontline guitar team. Smokehouse had a blast and The Gruene Grove was packed all night. We thank everyone for their kind comments and emails after the show. Thank you to Chris and staff for the hospitality and the great venue. And thumbs up to John O for the great job handling sound reinforcement. What a night!
The Gruene Grove • June 22, 2019 Photos
Scott and Crew gettin' the Boogie on in Gruene
Michael • Jack • Eric • Scott • Nate

Newly inducted member of the SGA All-Stars:
Austin's Nate Boff

A Member of the SGA Old Guard:
The Texas Saint Michael Mulligan
Been wanting to get these two on stage for a long time! Jack Barber and Eric Vasquez


Everyone at the Grove Saturday Night got a case of the Dancing Boogies!


Michael Mulligan • Jack Barber • Eric Vasquez
Scott Mayo • Nate Boff

Houston Adventure with a Mission - April 2019
The April calendar for Smokehouse had a big time couple of weekends that we were able to align and join! Three gigs in Houston on back-to-back weekends: The Truck Yard, The Big Easy, and Shakespeare Pub. As everyone knows, our co-founder and lead guitarist/vocalist Sam Massey is in recovery from a major illness he had. So we set off for Houston with a mission to get Sammy's Houston fans to come out and sign get-well posters for us to take back to Sammy. We had done the same thing two weeks earlier at the San Antonio Blues Society's Fiesta Blues Heritage Series show. The posters were completely filled in with greetings and well wishes from everyone. Sam was brought to tears when Scott pesented him the framed signed posters. Thanks to everyone for coming out and sharing your support. We were fortunate to have Stray Dawg travel with us from San Antonio for his first Houston performances with Smokehouse. Jason Crisp came down from Austin for two of the gigs. From our Houston Reserves we called on Larry Evans for bass, Brad McCool on guitar/vocals, and on drums we had Snit Fitzpatrick, Albert Storo, and Ken Woodard. Thank you to The Truck Yard, The Big Easy Social & Pleasure Club, and Shakespeare Pub for making this happen. And once again, thank you to friends and fans for sending your best to Sammy.
The Truck Yard in Houston • April 20, 2019 Photos
| | | |
| --- | --- | --- |
| | | |
| Stage Shot before the show begins | SHOWTIME! | The one-of-a-kind Truck Yard ferris wheel just 20 yards from the stage! |
Scott and Brad hitting the groove with Ken setting the beat


GUITARS BLAZING AND RHYTHM DRIVEN!

Jason Crisp • Scott Mayo • Ken Woodard
Larry Evans • Brad McCool

The Big Easy • April 26, 2019 Photos
| | | |
| --- | --- | --- |
| | | |
| Back at The Big Easy ... just before the show | Another night at The Big Easy for Smokehouse! | Our solid Houston rhythm section with Larry Evans on bass and Snit Fitzpatrick on drums |
Every time we are at The Big Easy it doesn't take long for the dance party to kick in!


Stray Dawg's first gig in Houston with Smokehouse!

Stray Dawg • Larry Evans • Snit Fitzpatrick
Scott Mayo • Jason Crisp

Shakespeare Pub • April 27, 2019 Photos
| | | |
| --- | --- | --- |
| | | |
| Our first step ino the Houston Blues scene started right here a few years ago | Guitar Frontline of Brad, Scott, and Stray Dawg (this was Stray Dawg's first SGA gig at Shakes) | Scott and Stray Dawg lockin' in |
Okay ... this is the way we started the show ...


Now something is different!
That's it ... SHOW OVER!

Larry Evans • Brad McCool • Albert Storo
Scott Mayo • Stray Dawg wise guys

A Weekend with Chris Duarte - March 2019
Chris Duarte was the name that came up for our second Smokehouse Showcase at The Cove. After a few phone calls we sealed the date with Chris and The Cove. This was a great opportunity to bring back Chris to his native San Antonio. We were very fortunate that we found an open date on Chris' rather crowded calendar. This show was also featured as a SABS coPro. For this Showcase we were joined on bass by Bret Coats and Jamie Krueger on drums. Vocals and guitar work covered by Chris, Scott, and Stray Dawg. After booking this show, we were able to bring Chris' band, The Chris Duarte Group, to Sam's Burger Joint as the featured band for the San Antonio Blues Society's 2019 Fiesta Blues Heritage Series show "River City Blues Revue." Basing out of Austin for awhile now, it was great for Chris to come back to San Antonio and reunite with classmates, friends, and fans. As the SABS Fiesta show, Chris was proclaimed Lifetime Honorary Member Artist.
The Cove • March 8, 2019 Photos
Just before downbeat

The Boogie is ON!
Chris • Bret • Scott • Jamie • Stray Dawg

Chris takes off on a signature solo
Chris sizzling with
Scott and Bret keeping rhythm


Stray Dawg taking lead on the frontline


Bret Coats • Chris Duarte
Jamie Krueger • Scott Mayo • Stray Dawg

Houston - January 2019
We were asked back to Shakespeare Pub. Shakespeare was the first club that we performed at in Houston many years ago. This was a special Saturday show, so a casual roadtrip was had. Our friend from Lake Buchanan and guest drummer John Carpenter came down with Sam and we made it to Houston in real good time. A visit was made to Bart Wittrock at world famous Rockin' Robin Guitars. Bart was able to come by the show later to play a set with us. Houston's Brad McCool, on guitar/vocals, and "Big Larry" Evans, on bass performed with Smokehouse. And to top it off, our dear friend Richard Stewart made BBQ and brought dinner to the club to feed the troops. It was a great evening for everyone. And the dance floor was busy all night long!
Shakespeare Pub • January 26, 2019 Photos
| | | |
| --- | --- | --- |
| | | |
| It was full-tilt boogie right from the git go | Rockin' Robin's Bart Whitrock joins us for a set ... what a KILLER set of guitars in this foto! | Scott and Sam - jamming away! |
| | | |
| --- | --- | --- |
| | | |
| Scotty on vocals with Brad in the background | Rhythm duo - Houston's Larry Evans on bass and from Lake Buchanan, John Carpenter on drums | John Carpenter • Larry Evans • Brad McCool Scott Mayo • Sam Massey |
A Weekend with Shawn Pittman - January 2019
As often happens, coincidence of schedules allows for special shows to come about. Third week in January saw Smokehouse hooking up with Shawn Pittman, recent inductee as a Honorary Life Member Artist of the San Antonio Blues Society. Shawn and bandmate Jay Moeller were both inducted at the 2018 Robert Johnson SA Sessions, where they were the featured performers. We had a great show with Shawn as our guest for this Smokehouse Showcase at The Cove. This show was also featured as a SABS coPro. The rhythm section had Jason Crisp on bass with Jamie Krueger on drums. Scott, Sammy, and Shawn provided the guitar work and vocals.
The Cove • January 18, 2019 Photos
| | | |
| --- | --- | --- |
| | | |
| Shawn • Jason • Scott • Jamie • Sam | Smokehouse Showcase at The Cove with our friend and Special Guest Shawn Pittman | It was as fun a time as it looks! |
Scotty and Sammy having a blast as usual!


Jason Crisp
Bassman extrodinaire

Jamie Krueger
One badass drummer


Jason Crisp • Shawn Pittman
Jamie Krueger • Scott Mayo • Sam Massey


January 27, 2018
FIRST FRIDAY AT THE COVE!
The first Friday of the month is always special for Smokehouse ... We are at The Cove to start the month off the right way! This show was extra special for we were celebrating Adam's birthday, along with Candace's birthday! And as an extra treat ... our friends Shelby Cheyenne and Brad came by for the show
| | |
| --- | --- |
| | |
| Sam, Shelby, Scott, and Candace | What a beautiful stage! |
Jamie Krueger • Jason Crisp • Scott Mayo
Raul Garcia • Sam Massey

Guest Drummer Raul Garcia
January 12, 2018
WHAT A BLAST WE HAD IN HOUSTON!
Smokehouse played The Big Easy and what a show it was! In our audience we had such Houston top cats as Texas Johnny Boy, Jonn Del Toro Richardson, and The Mighty Orq. On stage we had Houston's Brad McCool and Albert Storo performing with Smokehouse for the show. To the Houston Blues Society and fans of the Blues, thank you for coming to our show, and all the blues shows in town. To Tom and his great crew at The Big Easy, your stage is the world! All of you are keeping the Blues jumpin' in Houston!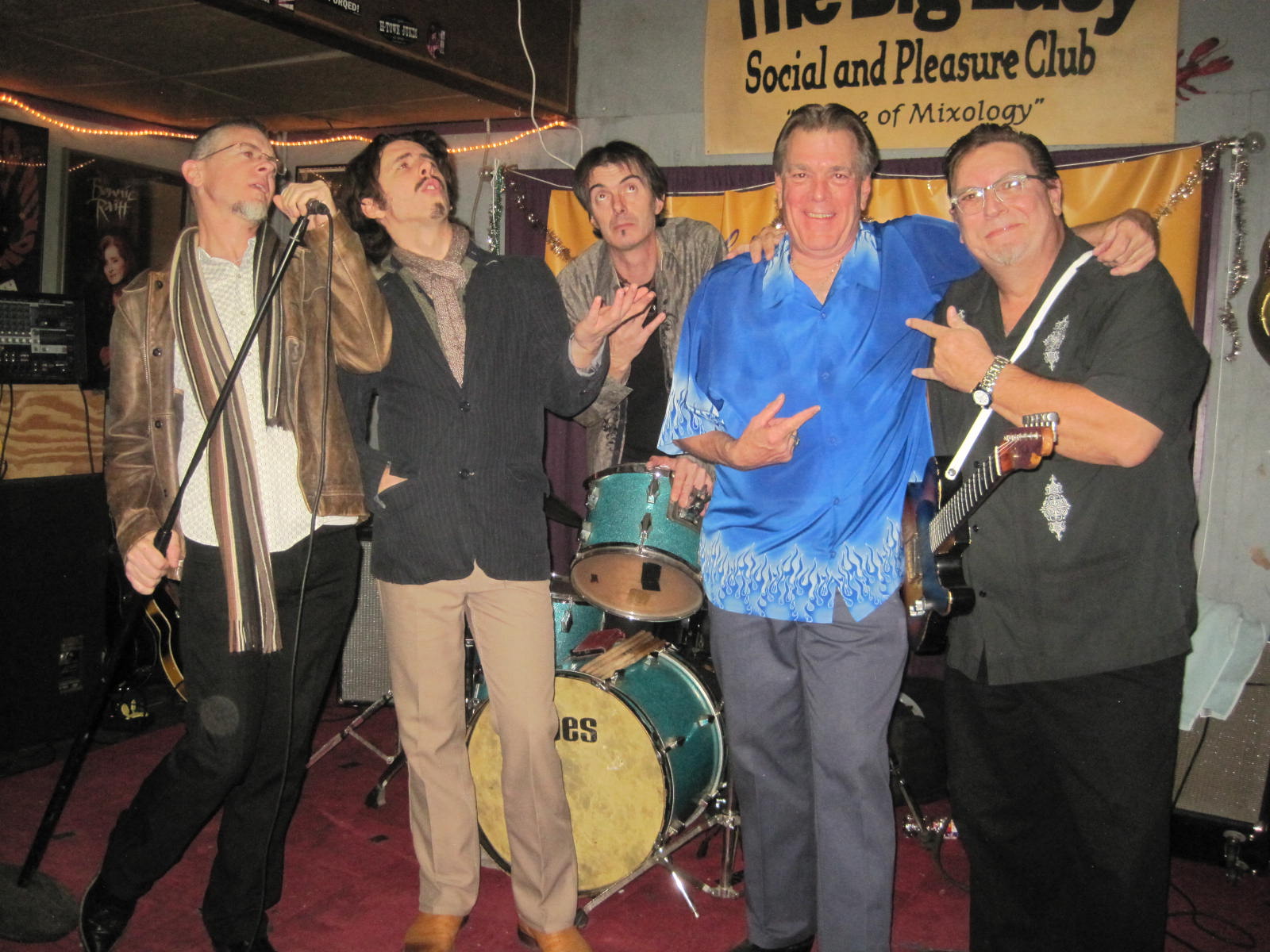 Brad McCool • Adam Johnson • Albert Storo • Scott Mayo • Sam Massey
| | | |
| --- | --- | --- |
| | | |
| Scott with Jonn Del Toro Richardson and Texas Johnny Boy | Eden and Brad McCool enjoying a break between sets | The Mighty Orq and Jamie having fun at the show |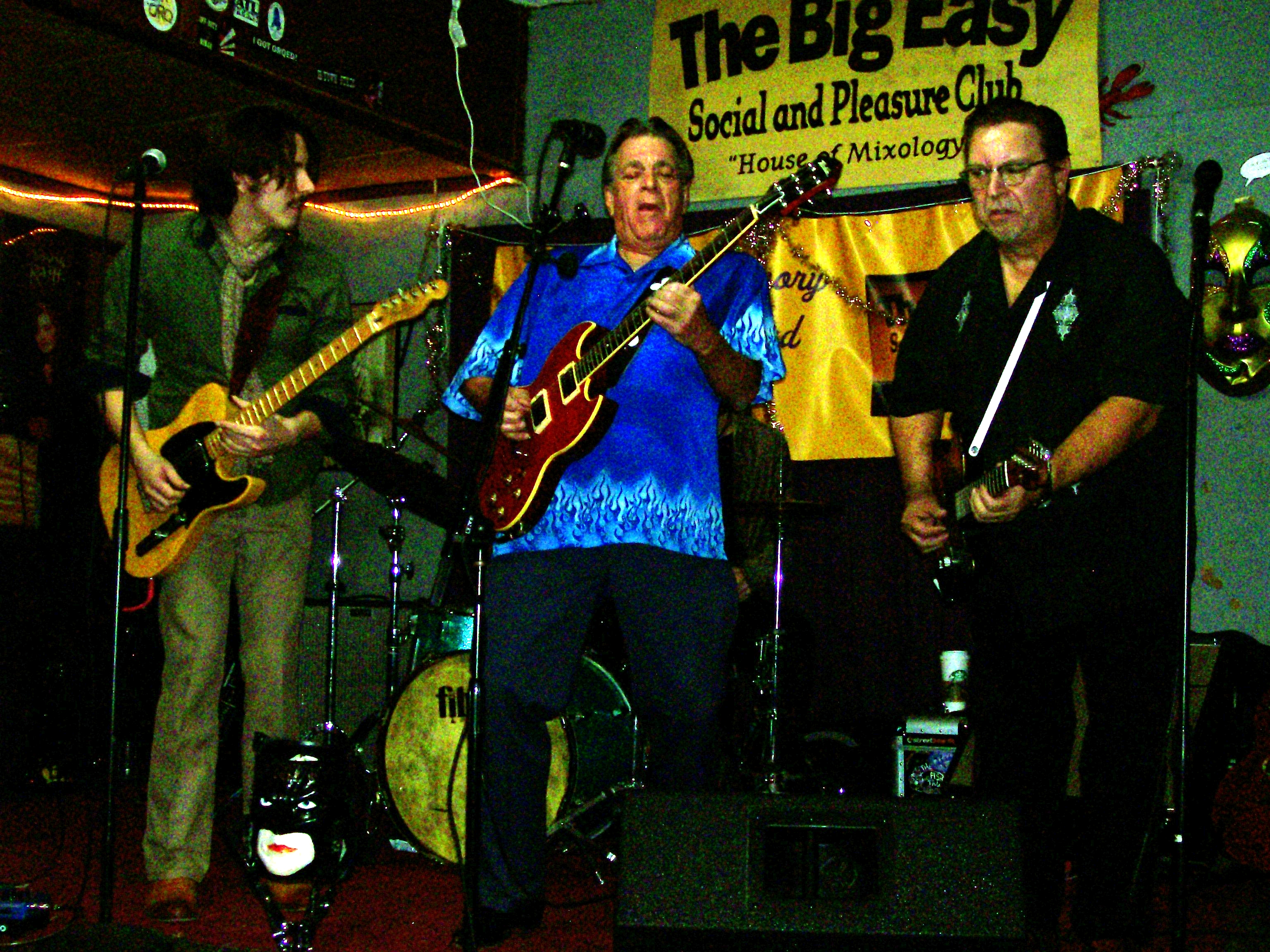 SEE YOU SOON HOUSTON!
December 31, 2017
NEW YEARS EVE AT THE BEACH!
Mikel May's had us perform at their private New Years Eve celebration and it was a BLAST!
| | |
| --- | --- |
| | |
| | Jason Crisp • DC Olson • Charlie Gnerre • Scott Mayo • Sam Massey |
BACK TO THE BEACH IN SPRING 2018!





December 9, 2017


NEW VENUE IN HOUSTON - EMMIT'S PLACE - PLAYING WIH THE MIGHTY ORQ!
A hoppin' blues hub in Houston - our first gig there and we are joined by the Mighty Orq! Thank you to Susan Davis and the crew at Emmit's for having us and we look forward to our next gig there!
Mighty Orq • Brad McCool • Snit Fitzpatrick
Scott Mayo • Sam Massey

WE LOVE HOUSTON!
 
HOUSTON CATCHES SMOKEHOUSE LIVE AT KATIE'S IN BACLIFF

"We dropped by Katie's in Bailiff to see one of our favorite Blues Bands.
It's the Smokehouse Guitar Army, direct from San Antonio." Dec. 9. 2016


Thank you HoustonMusicNewsTV1

HoustonMusicNewsTV1 also recorded at our March 2016 performance at The Big Easy